Nat has completed a Bachelor of Exercise Science and a Master of Physiotherapy Practise. She has a passion for treating sports-related injuries and general musculoskeletal conditions. With a particular interest area in lower limb and neck injuries. Nat will work closely with you to relieve your pain and address the root cause of your problem and get you back to doing what you love.
She takes a holistic approach to your injury or complaint, looking beyond the immediate symptoms to understand the full picture. By considering your lifestyle, habits, and overall health, she can help you achieve the best possible results and prevent future injury. This is done using a combination of manual therapy, exercise prescription and education.
Outside of the clinic, Nat enjoys lifting weights in the gym, Muay Thai Kickboxing and is also the physiotherapist for a NPL 2 Senior Men's soccer club.
Kate has a strong interest in sport and exercise, having completed a bachelor in exercise science and working as a personal trainer while completing her Doctor of Physiotherapy degree. She has a keen interest in strength training and running, having competed in powerlifting and completed a half marathon. She has an interest in general musculoskeletal injury management and helping people get back to the activities they enjoy.
Kate grew up near Melbourne and likes to keep busy training in the gym, running, anything outdoors and catching up with family and friends.
Doctor of Physiotherapy (UoM, 2019); Bachelor Sports & Exercise Science (VU, 2016)
Amy has worked in private practice for a number of years, with a strong background in Clinical Pilates. Growing up with a heavy involvement in sports and exercise, Amy loves helping clients achieve their activity goals whether it be building up their running, hitting the gym or return to sport.
Amy believes management should involve a combination of education, manual therapy and exercise programming to help address not only the injury itself but underlying factors to prevent recurrence. Amy treats a broad range of musculoskeletal conditions, with particular interest in low back and neck pain, as well as clinical exercise.
Outside of work you can find Amy hitting the gym, out on the footy field or basketball court, or hanging at home with her 2 cats.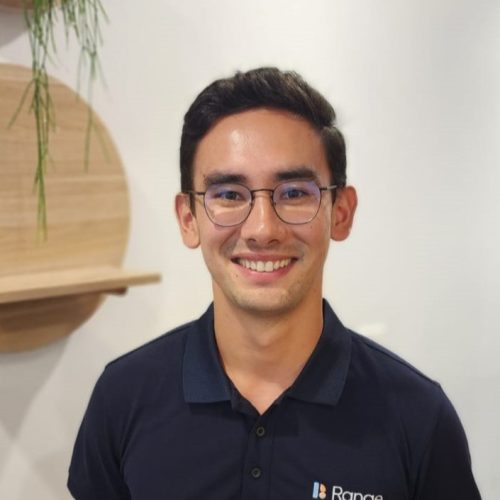 Michael takes great pride in helping people get the most out of their body so that they can live their best life. Through his own personal experience with knee (ACL) injuries, Michael truly understands what it's like to be injured, which motivates him to provide personalised and high-quality care as a physiotherapist.
Michael's professional qualifications include a Bachelor of Science (Honours) from Monash University and a Doctor of Physiotherapy from the University of Melbourne. He is also a GLA:D trained physiotherapist making him a good fit for anyone with osteoarthritis.
Michael has a keen interest in sporting injuries, but also enjoys treating all types of pains and injuries across the lifespan. He has worked with several football clubs, grew up playing soccer and tennis, and currently enjoys long-distance running and weightlifting. Michael likes to incorporate a combination of manual therapy and exercise-based therapy, with a focus on addressing the underlying cause of the problem to help people get back to feeling their very best.
Beyond work, you can expect Michael to be perfecting his sourdough bread recipe, training for his next half-marathon, watching sport and planning his next travel adventure.
Dean completed his Masters of Physiotherapy Practice degree at La Trobe University. Throughout his degree, he was able to gain valuable experience in both public and private hospitals, in addition to private practice physiotherapy. Prior to to his Masters degree, Dean completed a Bachelor of Health Sciences degree, majoring in Human Physiology and Anatomy also at La Trobe University, and Bachelor of Exercise Science and Human Movement at Victoria University.
Dean has a strong interest in sports injuries and rehabilitation, which has developed from personal experience with his own injuries through competing primarily in football over the years. He is also interested in management of general musculoskeletal conditions, particularly ankle and neck conditions. Dean's practice philosophy involves the use of manual techniques and exercise therapy in the rehabilitation journey. Additionally, the importance of client education and involvement in their own rehabilitation pathway.
Away from physiotherapy, Dean keeps active by running, attending the gym and playing golf as regularly as possible. He also enjoys travelling, catching up with family and friends and supporting the Western Bulldogs!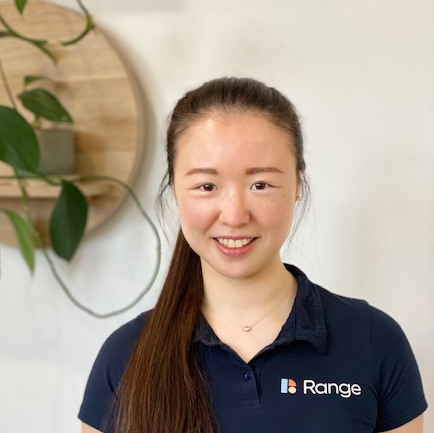 Debbie is an experienced physiotherapist dual trained in treating musculoskeletal and women's health conditions. She graduated with a high distinction Master of Physiotherapy and is currently completing her Master of Pelvic Health and Continence (AKA Women's, Men's and Pelvic Health) through the Curtin University.
Debbie invests in every one of her clients to make sure they get the best evidence-based management and improve under her care. She believes building a therapeutic long-term relationship with clients is the key to improve their quality of life. After a couple of years of treating musculoskeletal and sport injuries in private practice, Debbie discovered a keen interest in treating pre-natal and post-natal women with pelvic dysfunction, which she has found very rewarding. Debbie is skilled in pelvic floor muscle training, antenatal & postnatal management and treating incontinence, prolapse and pelvic pain.
Debbie is also experienced in teaching Clinical Pilates and Functional/Strength training and runs group classes every day. She enjoys helping clients to achieve their goals so that they can actively enjoy life.
Outside of work & studying, Debbie enjoys doing Pilates, strength training and playing tennis. She also loves a cuddle from babies (including fur babies!) and looks forward to forming her own family soon.
Courtney completed a bachelor of Exercise Science from La Trobe University before completing her Masters of Physiotherapy Practice at La Trobe University. Courtney also completed a year long internship at Exercise Research Australia. Courtney currently works as a sports trainer for AFL Umpires Association and is currently the Head Physiotherapist for Yarraville Mens WRFL team and for the Preston U21's soccer team.
Courtney has a keen interest in sports rehabilitation and general musculoskeletal injuries. She believes in using an active approach to rehabilitation, while using manual therapy as an adjunct in her treatment to target not only the symptoms, but the cause of the injury. Courtney works with her clients to create a Tailored Management Plan with the aim to get people back to what they love to do, or to what they thought they were not physically capable of doing.
Outside of the clinic Courtney spends her time lifting weights in the gym or kickboxing, and when she's not working she loves to go out for brunch.
Michael, who was born and raised in Vancouver, Canada, made the move to Australia to pursue his dream of physiotherapy and completed the Doctor of Physiotherapy course at the University of Melbourne. Prior to moving to Australia, he had completed a double Bachelor's degree in Psychology and Human Kinetics at the University of British Columbia.
Michael believes in a holistic approach to his treatment and likes to incorporate a unique blend of his educational background into his sessions. Moreover, Michael has also completed training in Clinical Pilates and Strength & Conditioning as additional tools that he implements into treatment.
Michael enjoys treating all kinds of musculoskeletal presentations and has a particular interest in sporting injuries. Michael's practice philosophy involves a combination of manual therapy techniques, exercise prescription and empowering the client with education on their rehabilitation journey.
Outside of work, Michael has a huge passion for food and cooking. You'll often find him searching for the next best restaurants. He also enjoys playing basketball, golf and weight lifting and is an avid fan of all North American sports (although the AFL is slowing growing on him).
Michael is also fluent in Cantonese and Mandarin.
Wendell grew up in country NSW before moving to Melbourne to complete his Physiotherapy degree. He began his career in the public health system, predominantly in musculoskeletal outpatients. He gained experience in rehabilitating fracture and post op clients along with the management of people with more chronic conditions.
He has spent the past few years based in London where he spent his time working in private practice along with regularly travelling throughout Europe. He returned to Melbourne with experience across a variety of fields including public health, private practice, occupational health, aged care and working with an amateur football team.
He has experience with all musculoskeletal conditions and is passionate about not only resolving pain, but optimising health and movement to produce lifelong changes. He especially enjoys treating back pain, shoulder issues and tendon problems with a combination of manual techniques, movement optimisation, strengthening and education.
Outside of the clinic, Wendell keeps active by playing football in the winter and cricket in the summer. Through these interests Wendell has had his fair share of and treated many sporting injuries. Away from physio, he loves spending time on his family farm and fishing/camping on the mighty Murray River
BApplied Science MPhysiotherapy Practice (LTU); ASCA Level 1 S&C; Clinical Exercise, Dry needling
Emily has a keen interest in acute musculoskeletal injury assessment and rehabilitation, with particular experience working in sport, she has developed a tactical and results-driven mindset to help support her clients meet their optimal physical health.
Emily enjoys treating a wide range of musculoskeletal conditions, along with paediatric rehabilitation, Clinical Pilates, return to running and exercise programming. Emily's philosophy for practice intends to utilise key physiotherapy techniques, manual therapy and education, in conjunction with her clients' values and desires.
Currently working as the physiotherapist for Banyule Football Club and Carey Baptist Grammar School (APS Girls Football), Emily's weekends are spent on the sidelines of a footy match or enjoying a run with friends, refuelling with a drop of Melbourne's finest!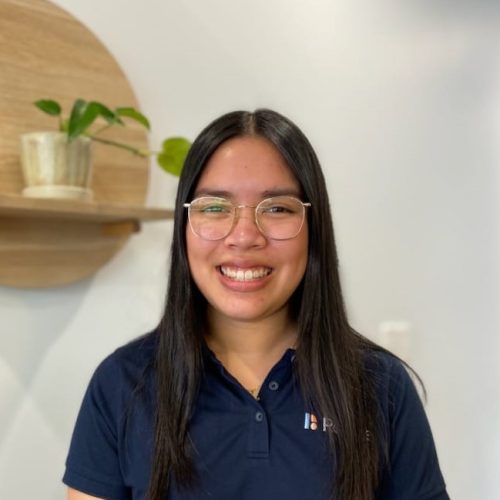 Anh graduated with a Bachelor of Applied Science and a Master of Physiotherapy from La Trobe University. Her experience in working as a Sports Trainer in NPL Men's and Women's soccer has led to her interest in treating sport related, and general musculoskeletal injuries.
Anh believes in taking a person-centred approach to physio by looking at all aspects of your lifestyle, to tailor treatment specifically to you. By using a combination of manual therapy, education and exercise, she will work collaboratively with you, to get you back to doing what you love.
Outside of work you can find Anh playing guitar, watching the Premier League, and spending time with her friends and family.
Amy grew up in the Riverina playing a variety of sports and traveling with her family and the Army. As a Physiotherapist, she has worked in private practices in Sydney and Albury, but has since settled in Melbourne with her husband Ben.
Amy enjoys treating a wide range of musculoskeletal and sporting injuries across all ages. She prides herself in providing a combination of hands-on treatment with tailored education, advice and a focus on addressing the root cause of the problem so her patients can maintain lifelong wellness.
Amy has a special interest in women's health and functional strength, having completed additional training in Strength & Conditioning, managing inflammatory conditions of the breast, pelvic girdle dysfunctions, and abdominal separation.
Outside of work, Amy is an enthusiastic foodie, always up for an outdoor adventure, particularly if it involves rock climbing or kayaking, and is an avid CrossFitter.
Stuart completed his Bachelor of Physiotherapy in 2011 at La Trobe University. He joined the team at Range Physio in 2014 and has over 10 years of experience managing a wide range of musculoskeletal injuries and has developed a passion for helping his clients move and feel better.
In 2020, Stuart and the Range team launched a second practice, Range Physio Preston. As a Preston local, Stuart is thrilled to provide quality physiotherapy, clinical Pilates, and strength and rehabilitation services to his local community.
In addition to his work, Stuart is a keen sportsman. He has been a playing coach with a local senior Australian rules football team and has coached a senior women's football team in the VWFL. Stuart has experience working with local football, soccer and cricket teams to keep players preforming at their best throughout the season.
Outside of Range, Stuart finds supreme joy walking the isles of his local hardware store with his 3-year-old son, Harry, in tow. He is a keen fisherman, diver and sandcastle builder.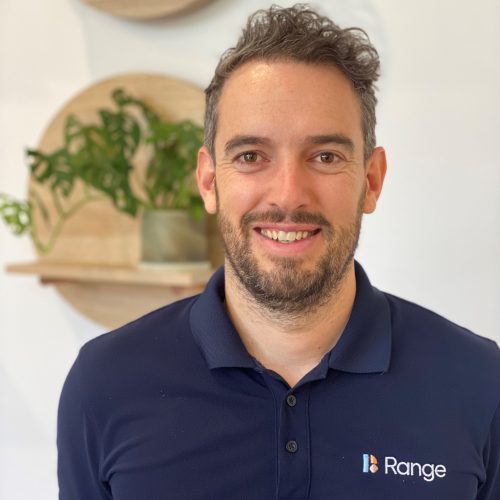 Rohan is a Northcote local who was part of the team that started Range Physio in 2012. He graduated from Physiotherapy at the University of Melbourne and completed his Masters in Sports Physiotherapy through La Trobe University.
Rohan enjoys treating a broad range of both sport and general musculoskeletal injuries. He is a firm believer in combining effective manual therapy with education, advice and structured rehabilitation. His rehabilitation philosophy combines the key elements of pilates with the principles of strength and conditioning.
Away from Physio Rohan loves spending time with his young family (Wife Mel and baby Sloane!), playing cricket for the Cheeseheads, getting out on the golf course and pretending not to support the Kangas!
James enjoys treating a variety of conditions and thrives on the opportunity to fully understand how each individual may be impacted to help develop the most appropriate management pathway.
James has a special interest in treating headaches and temporomanibular joint dysfunction.
In March 2018 James and his wife Emma welcomed their first child Max. Outside of the clinic he can be found chasing after Max while still trying to enjoy a good coffee or catch a game of AFL.
Anna grew up in Melbourne playing a wide variety of sports including tennis, cross country running and rowing, which inspired her to pursue a career in physiotherapy.
Anna enjoys treating a wide variety of musculoskeletal conditions including neck, back, ankle and shoulder conditions. She believes in using a combination of manual therapy techniques, tailored exercise prescription and education to help clients return to activities important to them and preventing injury from re-occurring.
Outside the clinic, Anna enjoys taking her dog to the park, travelling and having a laugh with friends.
Kirsty completed both an Advanced Diploma in Myotherapy and a Diploma in Remedial Massage at RMIT University in Melbourne.
Kirsty has extensive experience in treating a wide range of musculoskeletal injuries. Treatment techniques include Deep Tissue Muscle Massage, Myofascial Cupping, Dry Needling, Sports Massage, Lymphatic Drainage and application of Kinesiology Tape.
She gained her experience during her two and a half years at RMIT University. During this time, she treated a wide range of clients at the RMIT clinic. She provided a thorough holistic assessment to identify the cause of her client's pain or injury which resulted in using manual therapies to treat or prevent soft tissue pain and restricted joint movement.
Kirsty is passionate about her profession in Myotherapy. She provides treatment programs specifically tailored to her client's individual needs with results in them becoming pain-free.
Kirsty enjoys the outdoors, playing tennis and going for walks with her dog and spending time with family and friends.
David graduated with a Bachelor of Podiatry in 2006 at La Trobe University after simultaneously completing a Human Movement degree at RMIT. Soon after this, David moved to London, working with elite athletes and performers in the prestigious Fleet Street area.
Now based in Preston and Northcote, David's area of expertise includes Biomechanics, Paediatrics and Nail surgery.
Outside of Podiatry, David loves spending time with his young family. David is a keen sportsman playing Hockey and enjoying Hiking, Snowboarding and Mountain Biking.
Range Administration Team
Molly is currently working as a part time receptionist at our Northcote clinic. She is currently heading into her final year of Sports science/nutrition science at Deakin University, with the hopes of one day becoming a physiotherapist. In her spare time, Molly enjoys heading to the gym, spending time with friends and family and supporting the Western Bulldogs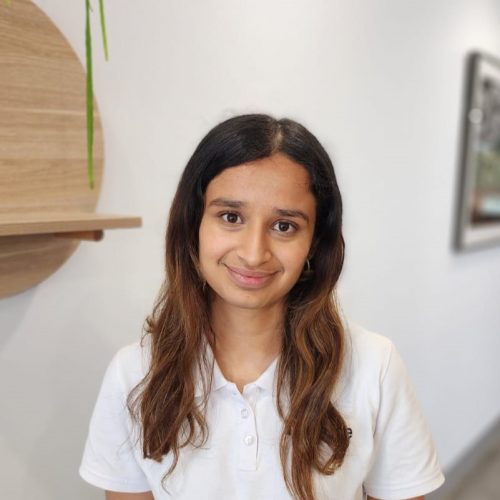 Archisha is a part time receptionist across our Northcote and Preston clinics. She is currently studying Physiotherapy at La Trobe University. As a former state athlete, Archisha still enjoys going down to the track for a run in her spare time. She also enjoys travelling, baking and spending time with her family and friends.
Taylah is a part-time receptionist at our Preston and Northcote clinics. She is a graduate Exercise and Sports Scientist and hopes to pursue a career in the elite sporting industry as a sports physiotherapist. In her spare time she enjoys keeping fit at the gym, going to a game of footy and spending time with her friends at a bar.
Tara is a part time receptionist across our Northcote and Preston clinics. She is currently entering her third-year of Physiotherapy at La Trobe University. In her spare time, Tara is a junior netball coach and umpire, enjoys the gym and spending time with friends, family and her miniature schnauzer Billie.
Jordyn is a part-time receptionist across our Preston and Northcote clinics. Originally from the North-East, Jordyn came to Melbourne to study Paramedicine through Victoria University. When not at the desk, Jordyn enjoys playing netball, spending time with her two dogs, or watching the footy as a one-eyed Collingwood supporter.
Aimee is a part time receptionist across our Northcote and Preston clinics. She is an ex-professional ballerina excited for her next chapter in life. In her spare time she can be found in a yoga studio or outside with a book in one hand coffee in the other.
Valerie is one of our part-time receptionists across our Northcote & Preston clinics. She is currently enjoying her new journey of being a physiotherapy student.
Outside of the clinic, Valerie is passionate in dancing, Pilates and experimenting with recipes!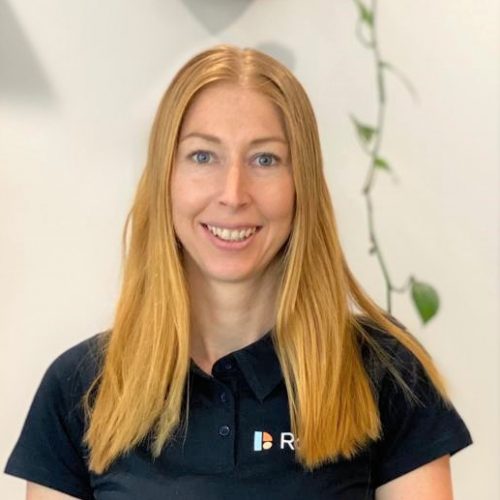 Verity was born and raised in New Zealand but now calls Melbourne home.
Verity joined the Range team in 2012 when Range Northcote was born. Verity has a passion for administration and customer service and now leads the admin team across both the Northcote and Preston locations.
When Verity is not hard at work you can find her enjoying a flat white at a cafe, cycling, or out walking her dog Freddy.